Events
2017
"Little Liberia Journey"
A Family Journey through the Atlantic World
Legacies of Slavery & Freedom
---
DATE:                        Friday, May 19th                                           
TIME:                         6:00 – 7:30 pm
PLACE:                     Housatonic Community College, Bert Chernow Galleries
                                      900 Lafayette Boulevard; Bridgeport, CT 06604
 TICKETS:               $12.00 General Admission; $10.00 Members
                                      $55.00 Patrons – Includes Membership & Gallery Reception with Mr. Stokes
---
One Family's Little Liberia Journey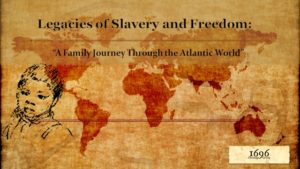 Keith Stokes, a Little Liberia descendant, tells his family's fascinating 220 year story. He traces their journey through one of the most famous mass slave emancipation and reparation efforts in history; from West Africa through Little Liberia.
The presentation highlights the scholarly research and documentation that dramatically reconnects Bridgeport, Connecticut's Little Liberia neighborhood – the 1848 Mary & Eliza Freeman Houses, Bridgeport's South End – to several of the most important historic places and events in the history of slavery and freedom in the Atlantic World: West Africa, United Kingdom, Jamaica, Philadelphia, and Newport, Rhode Island. The presentation will include images of family heirlooms from early Little Liberia between 1840 and 1900.
Speaker Biography
Mr. Stokes is a frequent national, state and local lecturer in community & regional planning, historic preservation and interpretation with an expertise in early African and Jewish American history.  Mr. Stokes has lectured extensively to regional, national and international organizations, providing training in the fields of African and Jewish American history, developing historic interpretation programs, historic main street planning and historic site recovery. He has been the recipient of the Rhode Island Black Heritage Society's Fredrick Williamson Award, Daughters of the American Revolution Excellence in Community Service Award, Community Service and Leadership Awards from Newport and Providence Branches of the NAACP, and along with his wife, is the recipient of the Rhode Island Council for the Humanities Prize for Creative Achievement in the Humanities.